Officer Vega came in today to talk to the driver ed students about driving safely! Thank you Mr. Vega! Students will be out and about driving starting today! Exciting times for our students! Please give them space and be considerate, they are learning to drive! #CHstrong

Just a reminder that Driver Education starts on Thursday at 8 am in the high school cafeteria and goes until 10 am. Driving starts the week of June the 5th! See everyone on Thursday!!!

Great season Vikings softball! 20-2 FHL Champions Back to back Regional Champions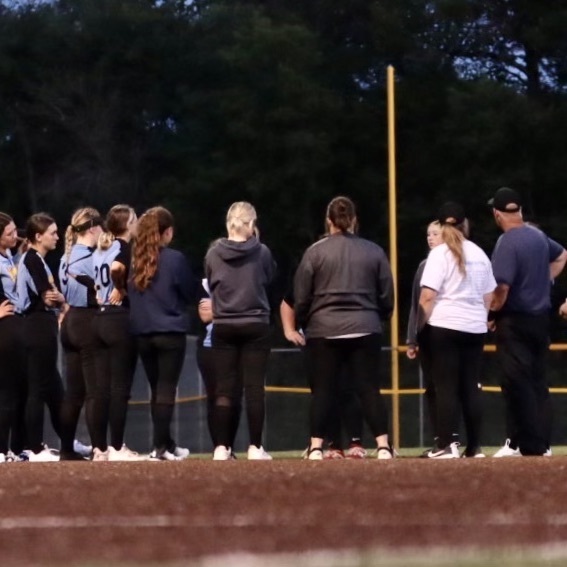 After 3 Vikings trail 7-0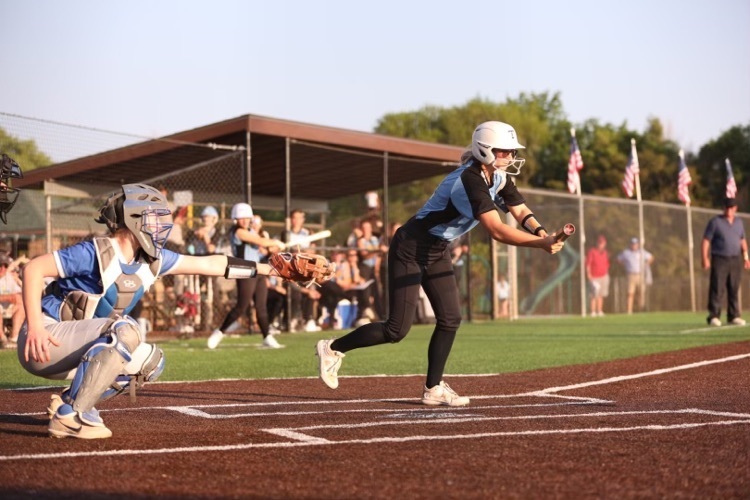 Dear Viking Family, Central Heights, USD 288, is in need of bus drivers for the 2023-24 school year. We currently do not have the staffing necessary to run all our traditional before and after-school bus routes. All new drivers will receive a $1,000 sign-on bonus. Please contact the district office if interested.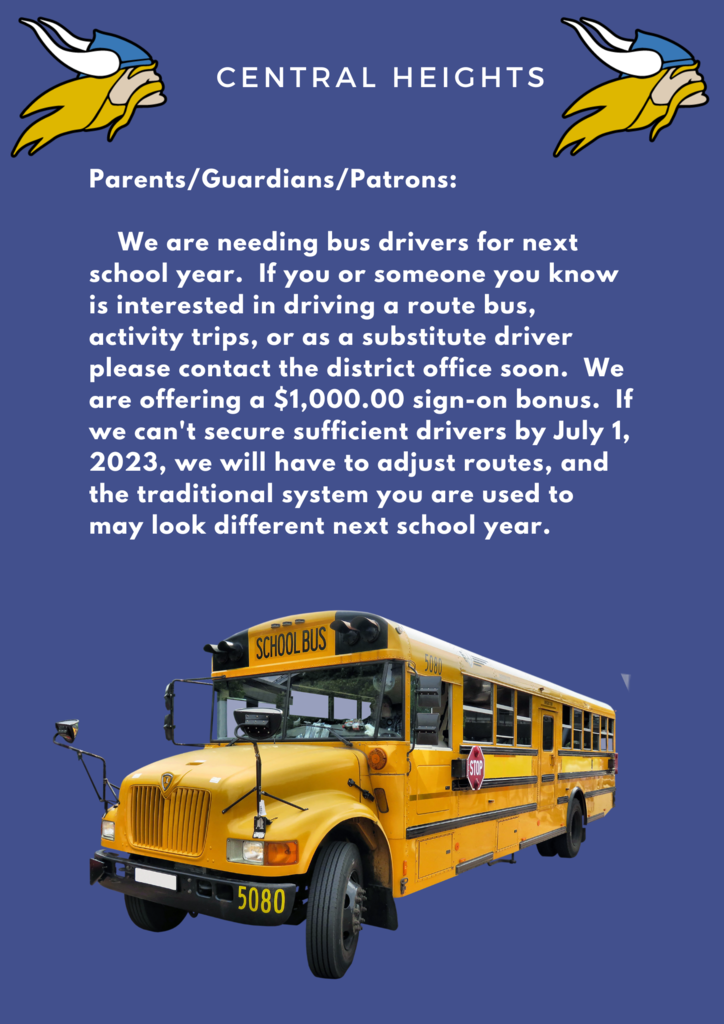 We are thrilled to announce that one of our very own teachers has been named the new Principal of Central Heights Middle School! Please join us in congratulating Michelle Smith as she enters this new role! Mrs. Smith most recently served as an 8th and 9th-grade English teacher at Central Heights. She is married to Tyler Smith, who graduated from Central Heights in 2001 and has two kids attending Central Heights. Smith graduated from Kansas State University in 2006 with her Bachelor's Degree in Elementary and Middle Level Education, then moved just south of Colorado Springs to teach for four years in 8th grade ELA . Since then, she has moved back to Kansas, has taught in the Lawrence School District (where she even taught a year of kindergarten!), and then accepted the 6-8 Special Education teaching job at Central Heights, and obtained her K-12 Special Education Master's Degree from Fort Hays State University. She ultimately moved back into the position of an English teacher at Central Heights, and has loved every minute of it! Smith is a member of many committees at Central Heights, helped launch many initiatives from Evening with the Arts to middle school interventions, and loves bringing fresh ideas and passion to whatever she does. She was the Central Heights Teacher of the Year and a Kansas Teacher of the Year Nominee in 2020. Middle school is the absolute best school, in Mrs. Smith's opinion, and she can't wait to get started in her new role as the middle school principal! Please join us in congratulating Mrs. Smith and offering our full support as she leads our staff and students in a positive direction!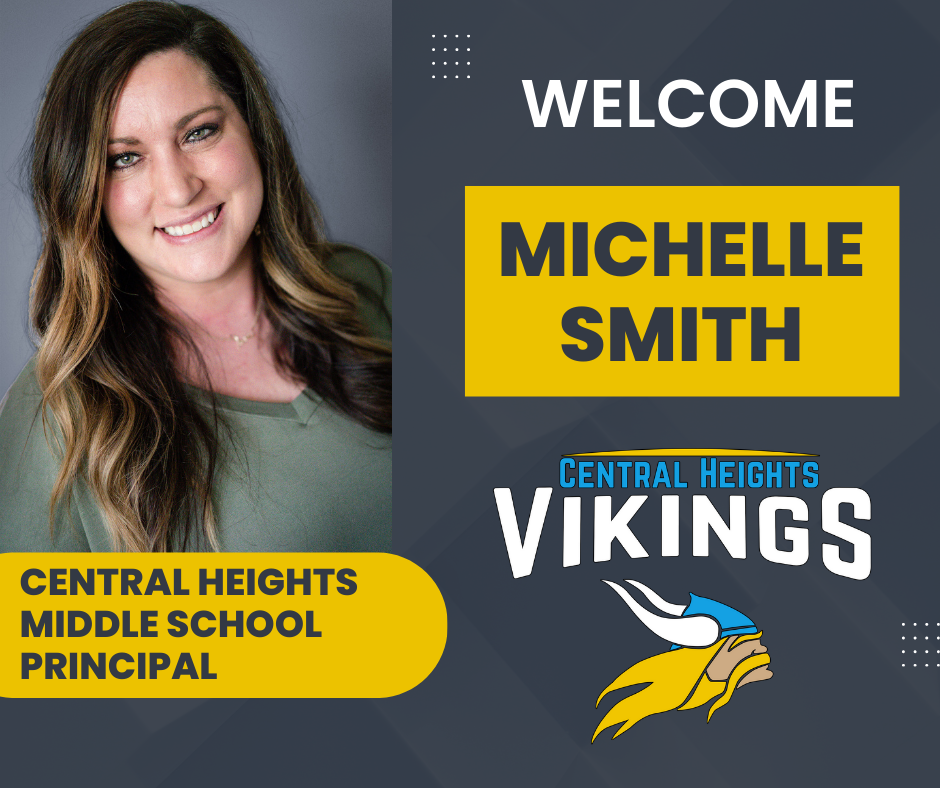 We are excited to introduce Hope Lickteig as the new Elementary Principal of Central Heights! Please join us in welcoming Mrs. Lickteig into this new role. With her experience and passion for education, she will foster an environment of growth and learning for our young Vikings. Mrs. Lickteig graduated from Pittsburg State University and began her career in the Spring Hill School district. She served as a 2nd and 4th-grade teacher at Spring Hill for seven years before returning to her alma mater. Mrs. Lickteig has been a Kindergarten and 3rd-grade teacher at CHES for eight years. While at Central Heights, she earned her Master's Degree in Technology Integration into the Curriculum and her Building Leadership certificate from Pittsburg State University. Mrs. Lickteig and her husband, Chance, have been married for 17 years and have two children who attend Central Heights. Mrs. Lickteig received the Kansas State House of Representatives District #5 Elementary Teacher of the Year in 2019, the Central Heights Teacher of the Year in 2019, and the Pittsburg State University College of Education Outstanding Educator Award in 2018. Please join us in giving a warm welcome to Hope Lickteig! We look forward to the positive impact she will have on our Central Heights Elementary School community.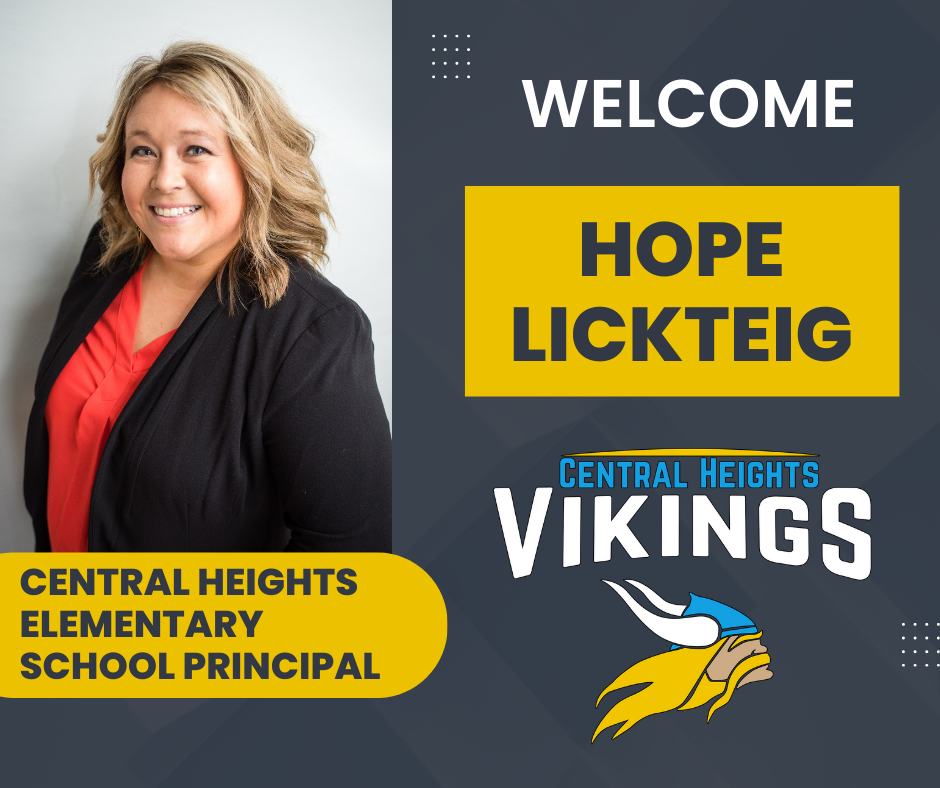 📢 Attention, Central Heights Softball fans! Get ready to show your support for our amazing State-bound team with official Central Heights State Softball t-shirts! These awesome shirts are now available for purchase at just $20 each. To place your order, email
jschweiger@usd288.org
. But hurry, time is running out! The deadline to order is tomorrow, Friday, May 19th at 9 a.m. Payments can be made conveniently through Venmo to jenna-catloth or at the high school office before the t-shirt pick up. If you're feeling extra generous and would like to sponsor a player's shirt, your contribution would be greatly appreciated. Mark your calendars! The shirts will be ready for pick up on Wednesday, May 24th. Don't miss out on this opportunity to grab your Viking pride!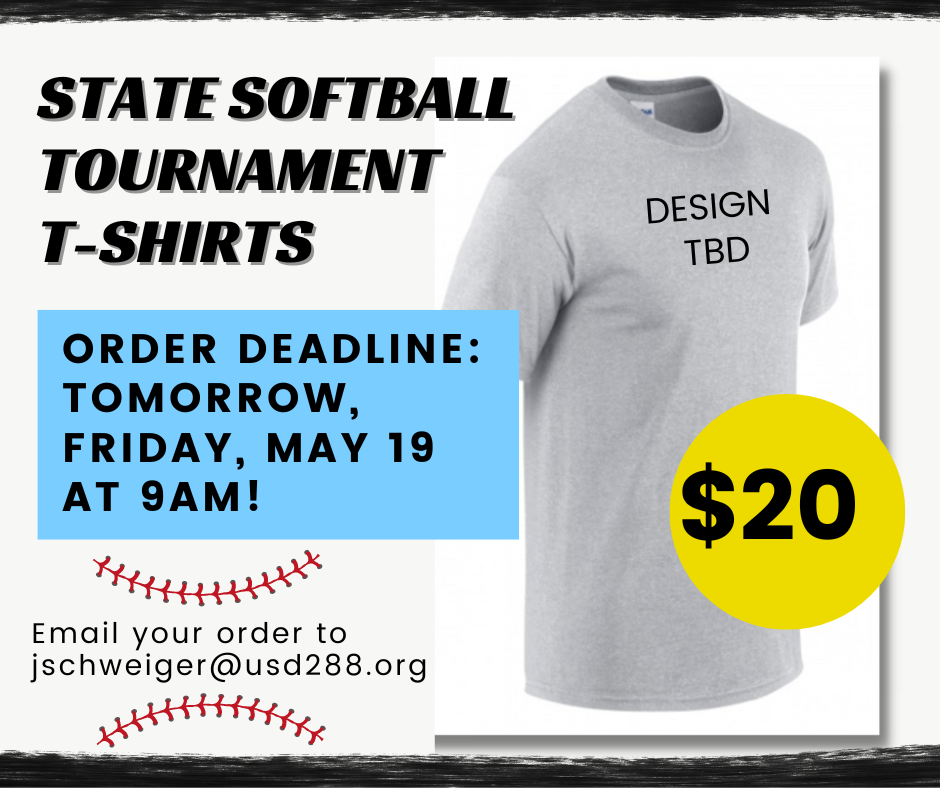 State Bound! 🥎 Congratulations to the Central Heights Softball Team! 🎉 We are thrilled to announce that the Vikings are Regional Champions and are headed to the STATE Tournament! Great job, Vikings!!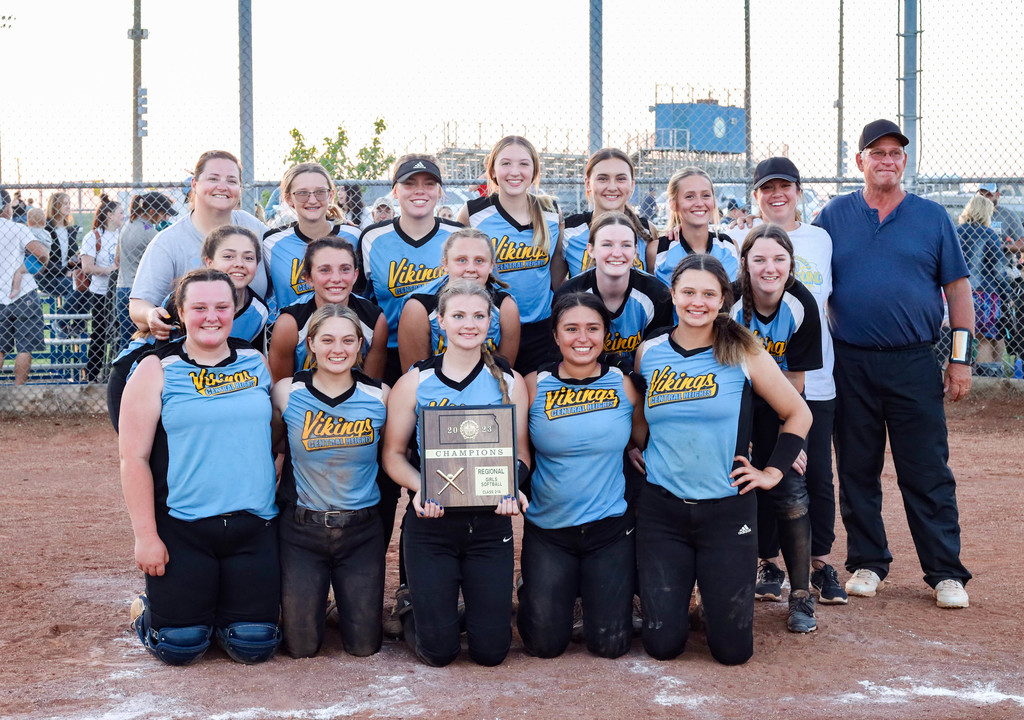 🗣 Calling all NHS Members! Your Pizzas are In!!🗣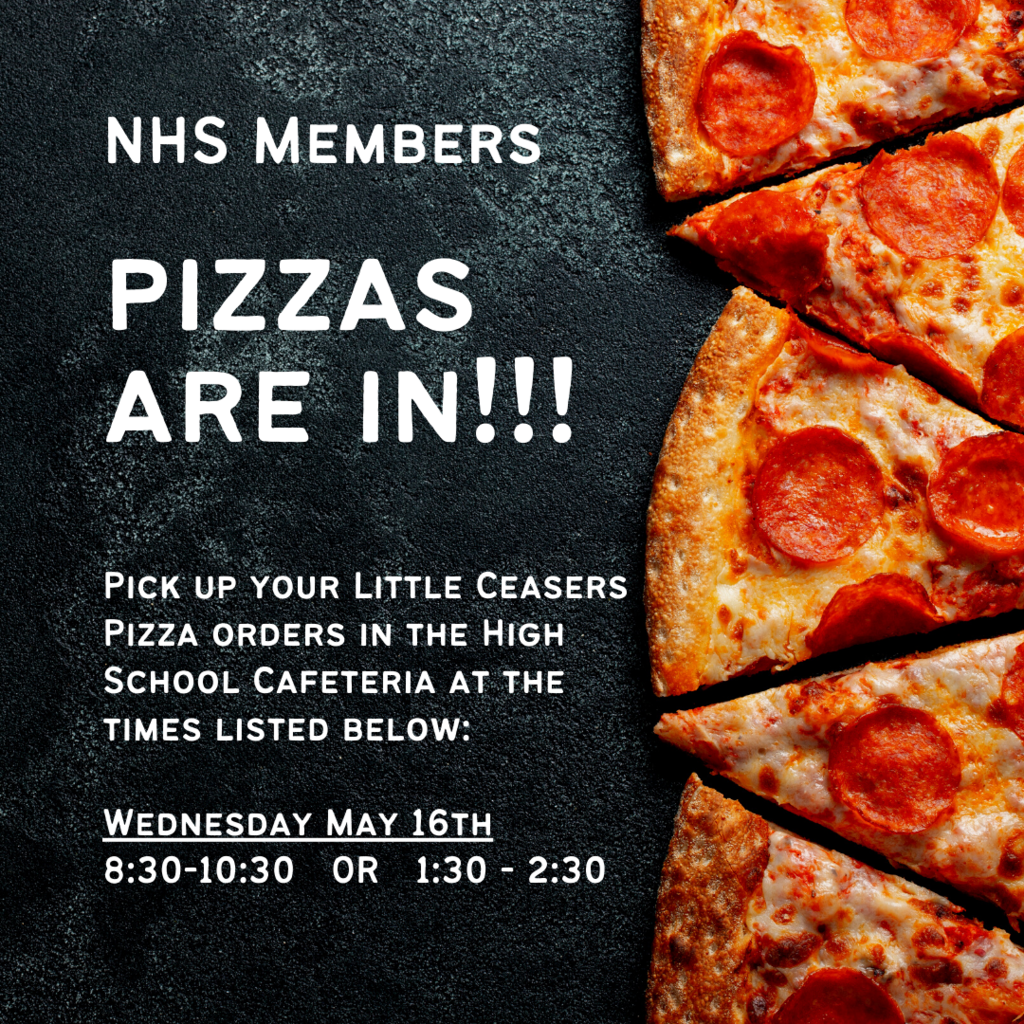 Transcripts will be finalized and mailed out by the end of the week for the Class of 2023!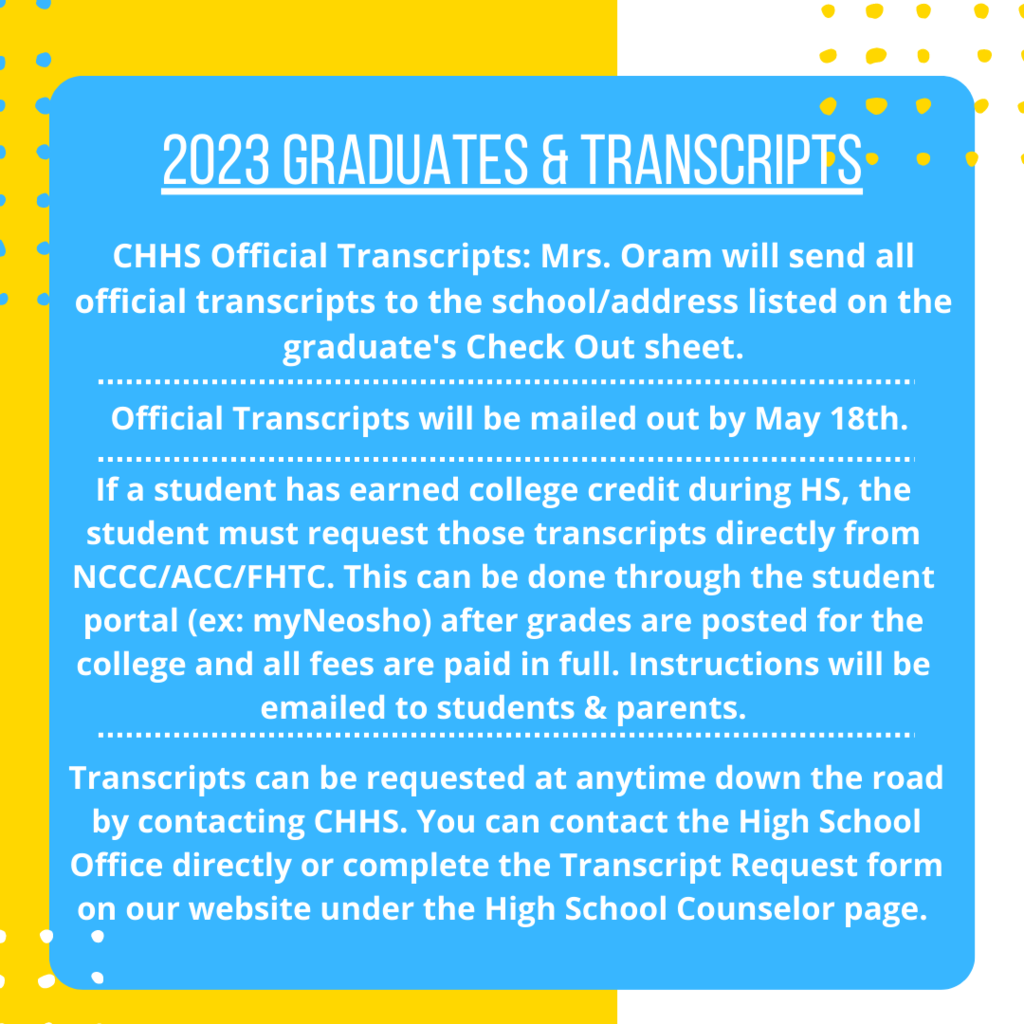 Papers were sent home for Driver Ed. Just in case they did not make it home, here is some information! Class begins June 1st and June 2nd. All classes will go from 8-10 am. Students will all need to be dropped off and picked up the first 2 days at the high school cafeteria on the north side of the school. Driving begins June 5th. We will pass out papers again on the 1st day of class with class and driving schedules.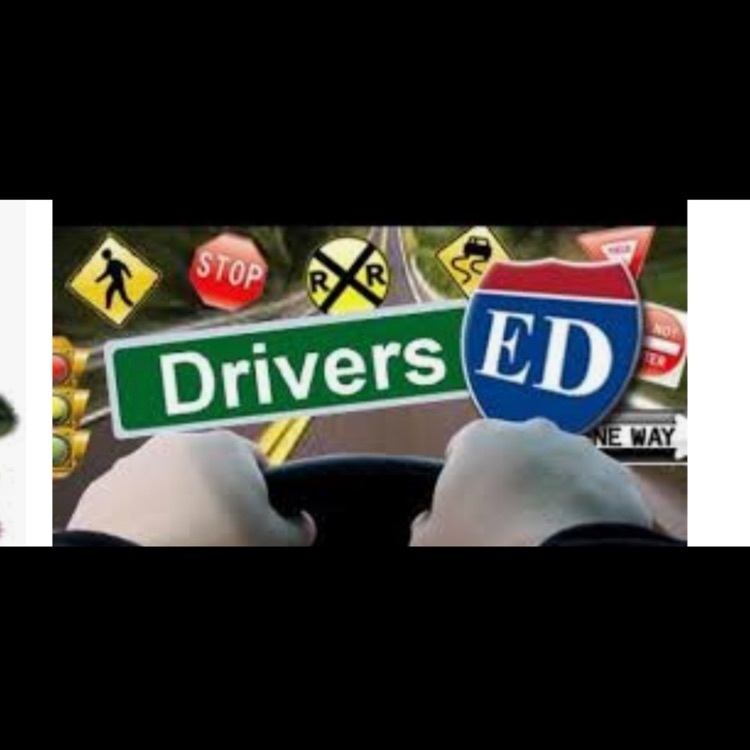 The baseball team will practice tomorrow morning from 8:30-10:00.
🎓🎉 Congratulations, Central Heights Class of 2023! 🎉🎓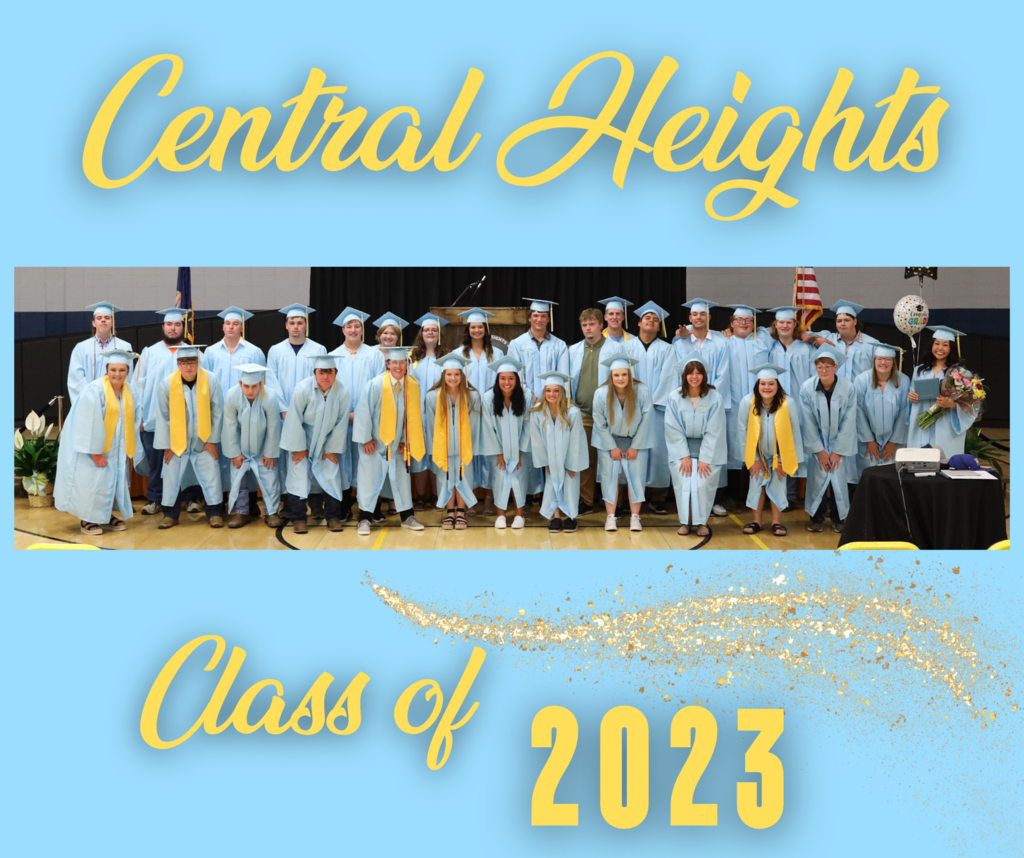 We would like to congratulate our Viking of the year winners! Mrs. Brown and Mrs. Hinrichs! These are two very hardworking and dedicated employees! They go above and beyond the regular school day with so many things that they do! We are lucky to have these two ladies along with all the other wonderful staff members we have at CH! Congratulations!!! We are #CHstrong

The Viking men set a new league record in the 4x800. The combination of McCord, Miller, Burkdoll, and Hammond turned in a blazing 8:19!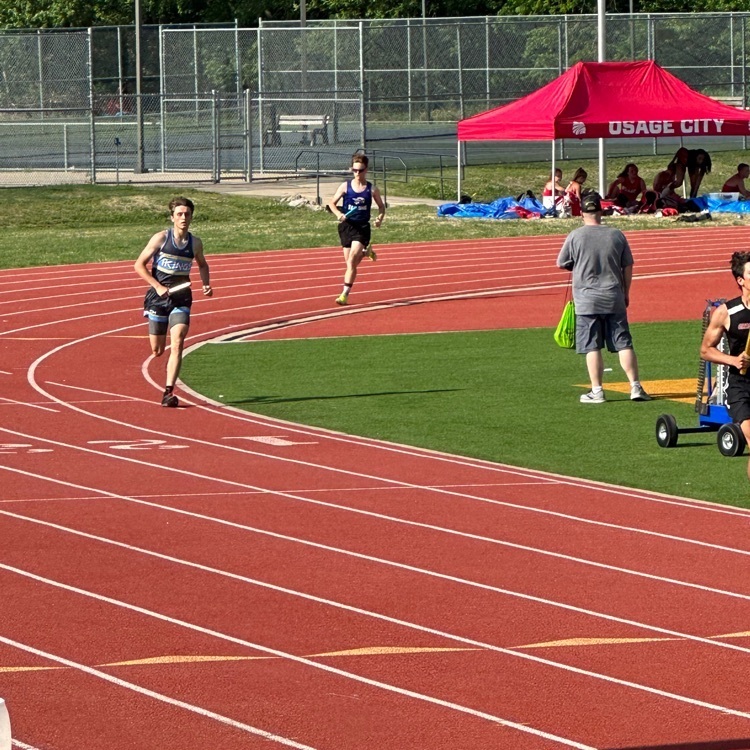 Central Heights would like to recognize this year's retirees, Ann Collins, Kent Schulte, Shelly Markley, Linda Horstick, and Brenda Wadkins. Your contributions have made a lasting impact on the lives of countless students. Ann Collins's served as the MS SPED at Central Heights for 9 years, followed by an impressive 11-year tenure as Principal at CHES. Ann has been instrumental in initiatives such as the Reading Program, PBIS, Watch Dogs, and securing LINK and Early Childhood Grants. Thank you, Ann, for your contributions! Kent Schulte has left an indelible mark on our school, having devoted 30 years to Central Heights. His dedication spans Burlington: PE and SS (4 years), Santa Fe Trail (7 years), and finally, Central Heights (30 years). Kent's passion for education shines through his roles as an Elementary and K-8 Counselor, as well as his involvement in FB, BB, Track, and Softball over the years. Thank you for everything! Shelly Markley, with her 29 years of service, has played an integral role in shaping young minds at Central Heights. From teaching various grade levels, including K, 1st, Title Reading, and 3rd Grade, Shelly's dedication and commitment have been inspiring. Thank you, Shelly, for supporting our students throughout the years. Linda Horstick's journey in education has spanned Illinois (4 years), Jayhawk-Linn (19 years), and an incredible 20-year tenure at Central Heights, all within the 1st Grade. Linda's passion for teaching and nurturing young minds has left a lasting impact on our school community. Your dedication is deeply appreciated, Linda. Thank you for your outstanding service! Brenda Wadkins, with an impressive 26 years at Central Heights, has been an invaluable asset to our school. During her tenure, she served as the High School Secretary for 21 years, followed by 5 years as the BOE Clerk. Brenda's efficiency and commitment have been vital to the smooth functioning of our institution. Thank you, Brenda, for your dedication and support over the years. Please join us in congratulating and wishing our retirees the best as they embark on new adventures and well-deserved retirements. You have truly made a difference!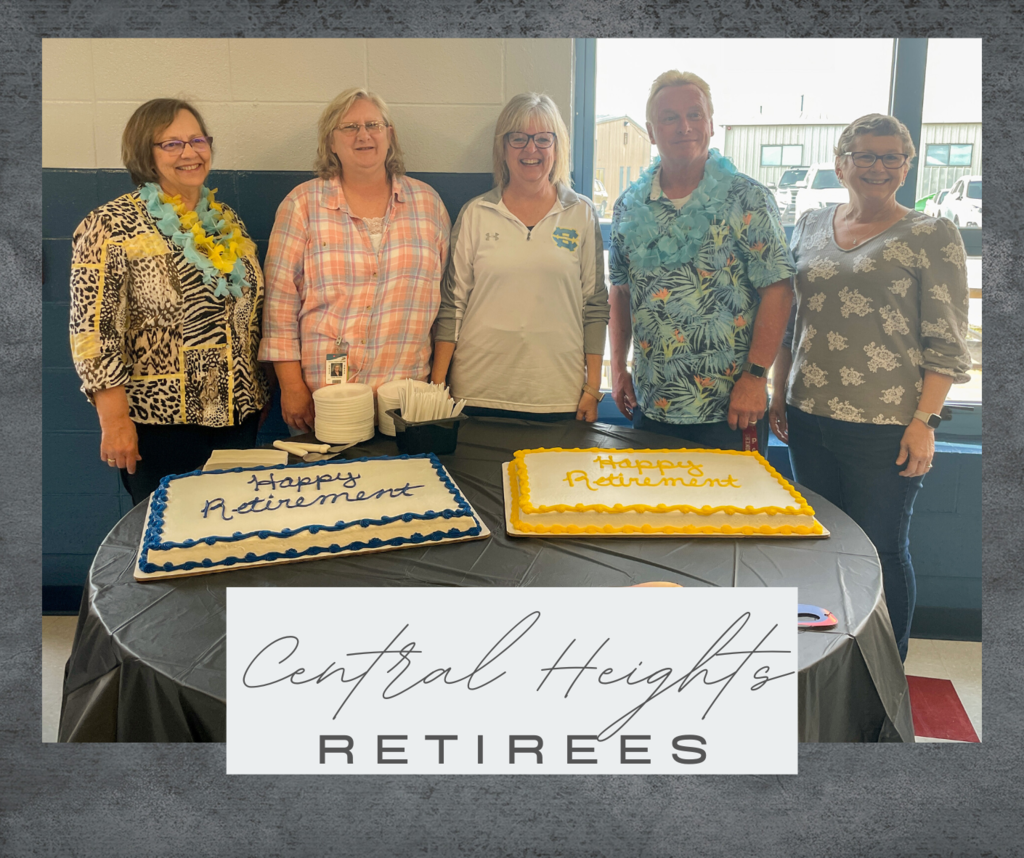 We are excited to announce that today Honor Flight received a donation in honor of Albert McKoon. Albert served during World War II with the paratroopers and the 82nd Airborne in Germany. We thank everyone involved in making this generous donation possible!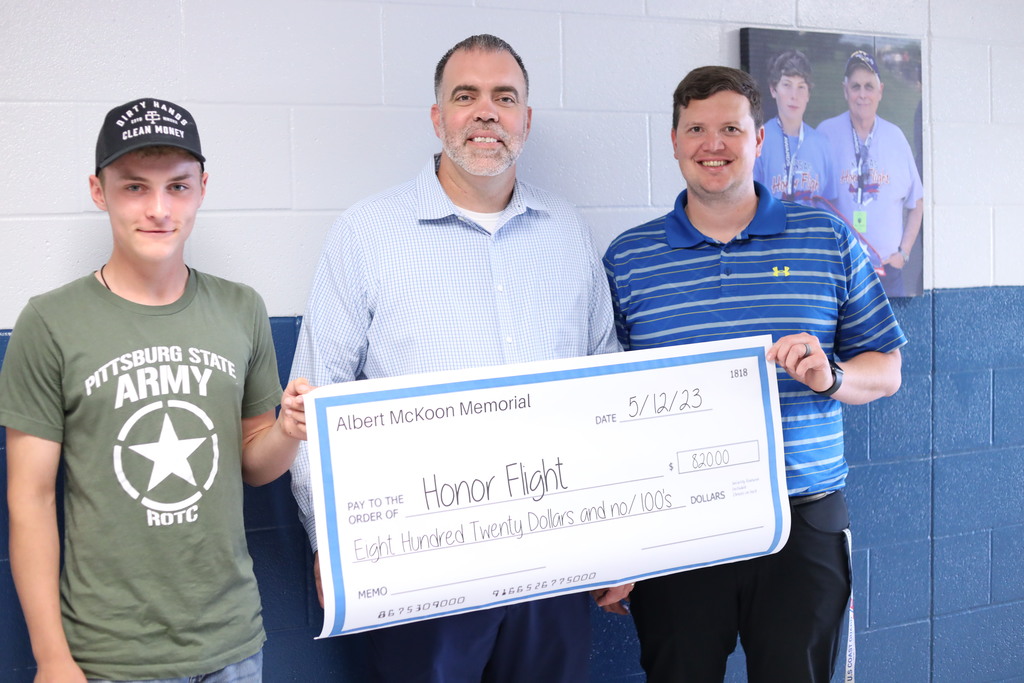 🎓Senior Spotlight 🎓Congratulations, Carson Wood! Class of 2023!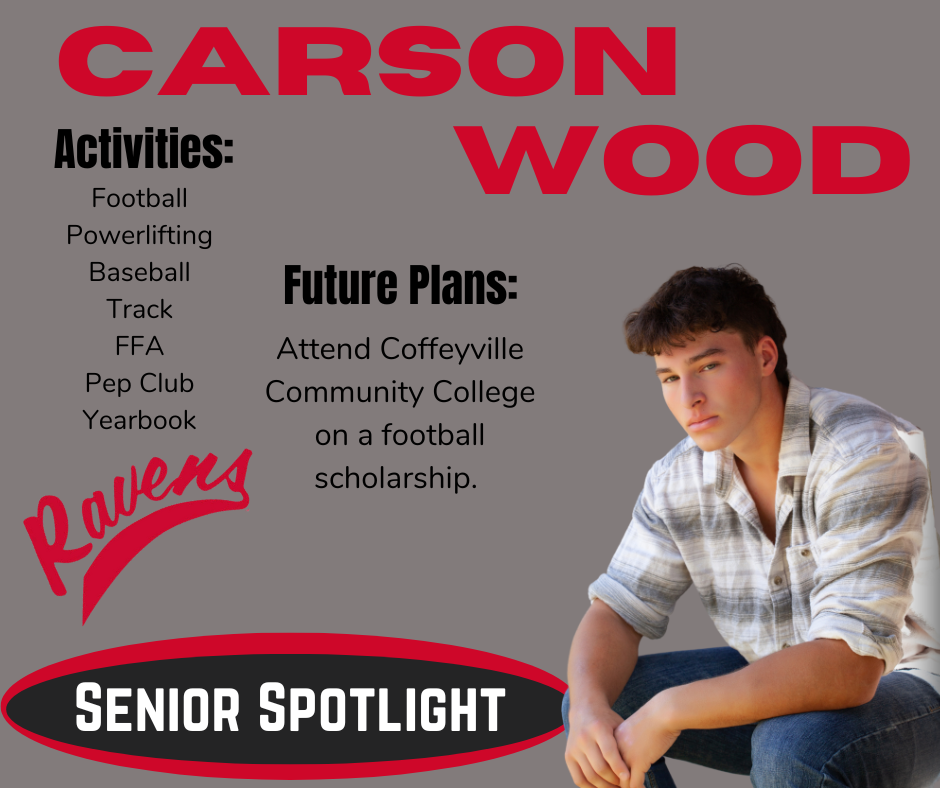 Join us on Saturday, May 13, 2023, at 2:00 p.m. in the Ike Cearfoss Gymnasium as we celebrate the incredible achievements of our outstanding graduates! 🎉🎓